Travel Stories: Road Trip USA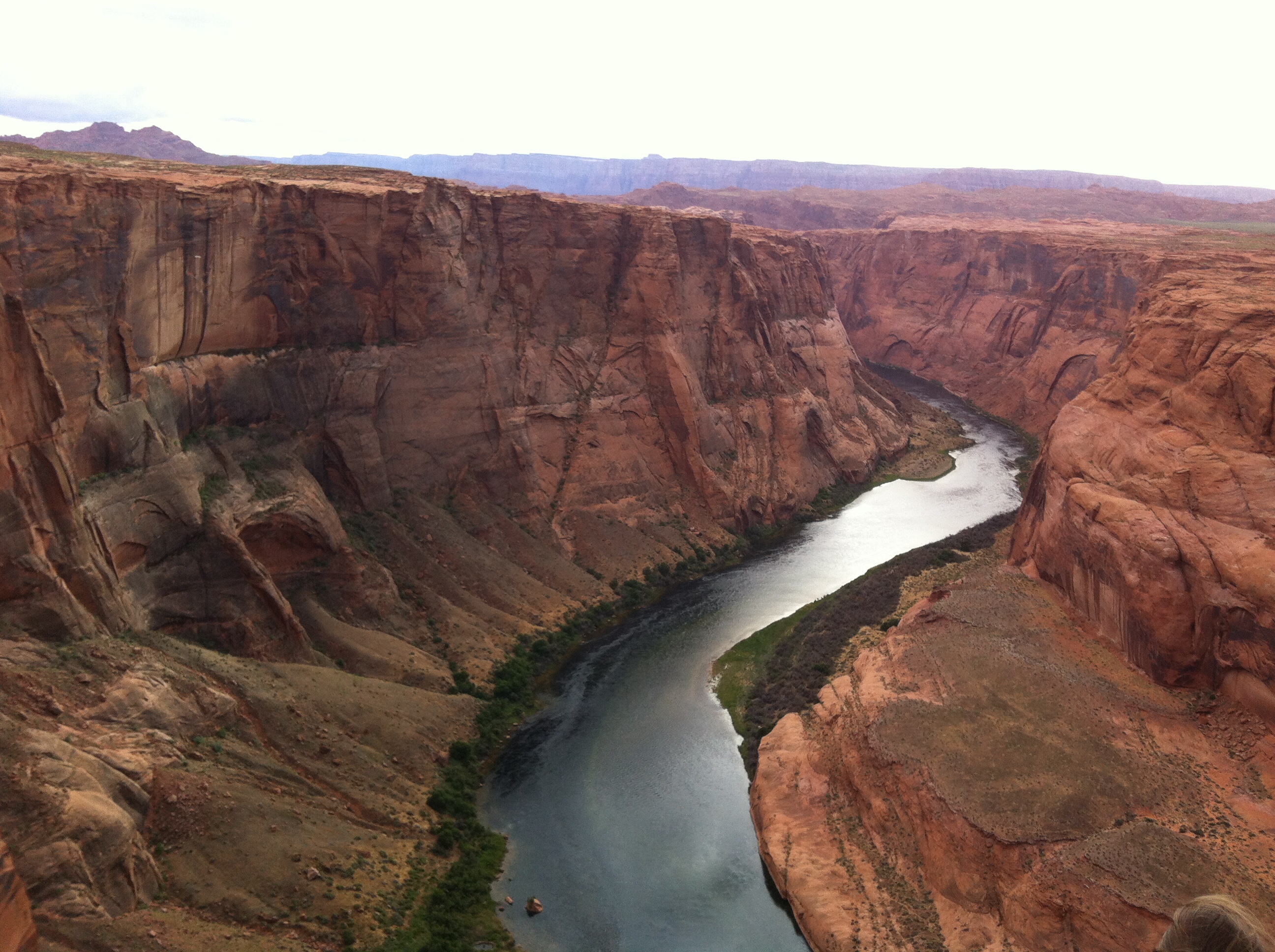 (I normally don't journal U.S. travel, but in the Summer of 2015 Mollie, Patrick and I took a nearly 6000 mile trip around the U.S., a trip I thought it was worth writing about — enjoy)
3:58 PM I-75 North, FL 5/18
The car is packed with food and water and just enough clothing. For the moment, we're heading north, with plans to hit Tennessee before nightfall. Plans to cover 6500 miles in 10 days, half of which will be at night.
We're going to see America, full stop.
Unfortunately, the first thing we see is an accident, what looks like an explosion, that stopped traffic for nearly an hour and twisted the median into macabre art.
6:54pm Johnstonville, Georgia 5/18
We pass by Johnstonville in the wake of a state corrections bus. Less than 100 miles of gas, the sun hangs cool orange.
It's time to take a break.
We choose Woodbury, the home of the Walking Dead and not much else.
7:39 PM Spalding County, GA 5/18
I have a tire store here.
Enough said.
8:01 PM Woodbury, GA
We came in time to see them setting up for a walking dead shot. Insane.
Crew vans and police cars, across from a small crowd of lucky residents.
3:03AM Tennessee 5/19
So much fog. So much fog. By now we should be eating ribs, but so much fog.
10:04 AM Arkansas, Pig Trail 5/19
Driving the pig trail in Arkansas. There are no pigs, but there are a pile of curves and gorgeous farm houses dotting the verdant hills.
11:19 am Fort Smith, AR 5/19
Off road to Fort Smith, at the edge of the Arkansas river and the beginning of the trail of tears.
Off to see a Gallows, where hanged men and cannons once cried out into the afternoon air.
There are storm clouds overhead, and below the ghosts of the dead mix with water and low grass.
On a bench a woman with blood, red hair smokes a cigarette and speaks of broken families, violence and rebuilding a life.
Tears of another kind, even today.
2:12 PM Oklahoma, Henryetta 5/19
Ate at the Classic Diner.
Had a blazing burger.
Tried the pickle bar.
Welcome to the Midwest.
3:22 PM Road to Oklahoma 5/19
The sky falls on the road to Oklahoma City. Flood advisory in effect.
4:55 PM Hydro, Oklahoma 5/19
The storm clears and we're left with the wind farms, spinning monoliths stamped against they gray.
6:34 PM McLean, Texas 5/19
Now the fog and rain have come together on the roads of Texas in goulash of pure unpleasantness.
7:14 Pm Outside Amorillo, Tx 5/19
The sky clears and we're level with the clouds. The highly is a sweeping emptiness punctuated by coppers and cows. A rusted train stretches out into the distance as we drive towards Pullman.
Next stop, Cadillac Ranch.
8:08 PM Cadillac Ranch, TX 5/19
The fog chased us to the ranch. In less than 20 minutes the graffiti soaked hunks of upright American steel disappeared behind a blanket of chill and damp.
We made the best of it, wading through the mud for pictures and watching as sky grew dark.
The tire pressure light is on.
8:46 PM Amarillo, TX 5/19
Flat tire.
11:32 PM Outside of Amarillo 5/19
The fog is still here but the tire is gone, now we're limping toward Albuquerque in hopes of finding a new one.
The desert is a wasteland — intense nothing matched with semi-trucks and the occasional rabbit.
6:16 am Albuquerque 5/20
Out of the Mazda 5, into grand Cherokee. We didn't die.
9:15 am Road to White Sands
New car, new day, the death fog has left us for now, and we find ourselves heading towards White Sands.
New Mexico is gorgeous, brown-tinted gorgeous.
12:51 PM Road to Carlsbad 5/20
Driving through Hondo, on the way to Carlsbad Caverns. What happened to White Sands? Well, it's a bit further away than suspected so we are visiting second.
New Mexico is all ranches and hills and little, squat villages.
2:30 pm Roswell, NM 5/20
Went to Big D's Downtown, had cucumber water and a turkey burger. It was delicious, except for the part where it hurts when I bite down.
Three Aspirin and a nap.
4:54 PM road to white sands 5/20
Hills and mountains and valleys oh my.
6:08 PM white sands 5/20
Bleached sands, a cluttered moon scape stretching out for miles.
The dunes are brilliant white, peppered with beetle tracks, short grasses and yucca.
The sun beats down from a cloudless sky — a dry, sweat-less heat.
The mountains in the distance are painted busts, fingers reaching out towards the vast blue.
This place is a miracle.
8:14 PM road to the Sheraton 5/20
We were stopped by customs at an automated checkpoint between White Sands and the rest of New Mexico.
There we learned that we are all American citizens, and that there is a really cool natural hot spring about 10 miles away, "$15 per hour."
Something new every day.
10:30 PM Sheraton, NM 5/20
Barely conscious.
2:45 PM four corners, nm, co, ut, AZ 5/21
Drove through 3 hours of unborn postcards to make it to the Four Corners.
Navajo selling baubles and fry bread.
The mountains sweep into hills into plains into scrub.
The wind blows in a gentle rain, mixed with sand.
There should be more souvenir stands.
4:29 PM SR 160, Kayenta 5/21
There was a cloud of deep red, spinning dust and rain into it's core.
We were driving into a sandstorm.
From a distance it was majestic, from inside of it was majestic and terrifying — blocking out the sky with swirling orange earth.
It was like being a bit character in some kind of Mad Max fan fiction.
6:15 PM Sunset Crater, AZ 5/21
On the way to Flagstaff we happen upon a volcano, long dormant and covered in a carpet of long cooled magma.
Trees, which I'll call ferns because I know nothing about trees, spring up out of the landscape – creating a vista midway between a bomb blast crater and a Christmas postcard.
11:32 PM Williams, AZ 5/21
At a campground outside of the Grand Canyon.
Sky full of stars.
7:26 AM Road to Grand Canyon 5/22
The sun is shining, the air is clean, the canyon is on the horizon.
12:05 PM Grand Canyon 5/22
Thoughts.
The Grand Canyon is, in fact, grand. To give it any other descriptor is an aggressive understatement.
1.5 miles down is much, much different than 1.5 miles up.
Rain, cold and dehydration can happen at the exact same time.
1:34 PM road to Utah 5/22
Controlled burns and rain storms.
Do not report.
8:39 PM road out of AZ 5/22
Three Landmarks
1. Going to The Wave requires a permit from the department of land management, which makes sense only when you realize that it's located on an unmarked path eight miles into the Arizona desert.
Bring a compass.
2. Both the upper and lower Antelope Canyons, a pair of slot canyons right outside of Page, AZ close at around 5PM, and require guides who have been variously described as lazy, uninterested and downright bad.
We ended up skipping it.
3. Horseshoe bend is strikingly, wonderfully strange — rocks stacked like Crepes frame a turquoise loop of the Colorado river.
Canoes drift idly across it's surface, on their way to the Grand Canyon.
Tourists approach the the edge like pilgrims on procession.
8:52 am Yellowstone National Park 5/23
Fall asleep in Arizona, wake up in Utah.
Fall asleep in Idaho, wake up in Wyoming.
Brush teeth, eat Oreos, keep driving.
Anatomy of a road trip.
First thing this morning we're on our way to see just how faithful Old Faithful really is.
10:21 am Yellowstone 5/23
On the way to Mammoth Springs, the cars stopped for no apparent reason.
Then the reason became apparent, a stampede of Bison making their way down the road.
2:28 PM Yellowstone 5/23
Bear spotting! 3x.
2:19 am Montana 5/24
Montana has differential speed limits for night and day, tricks and cars.
Montana has a lot of casinos.
12:19 PM glacier national forest 5/24
"The roads are closed until later."
"Oh yea, when?"
"June"
Most of the park is frozen over, but the parts that aren't are a collage of frozen peaks, brilliant lakes and fairy -tail forests.
7:24 PM road to South Dakota 5/23
Glacier conquered, ankle only slightly tweaked.
Saw a moose, saw a mountain lake so vast and beautiful that representing it words feels like a sin against those gods of beauty that judge these things, saw a woman with a woman with a swastika tattooed on her left ankle leading a group of children through fire marred forest, saw a real life glacier from a real world distance, saw a nice park ranger who reminded us that speed limits exist even here.
Saw a waterfall, where I got this new ankle of mine.
Saw it all, at least those parts not so frozen over that they resist sight.
7:36 PM 89 to South Dakota 5/23
We find ourselves on a Long, barren road with nothing but rolling green on either side.
Epic in its blandness. Oppressive in its sheer lack. Cows, barns and horses are the only things to convince you that your brain hasn't frozen.
3:30 am Ashland, Montana 5/25
Wake up somewhere in rural Montana, groggy, a little injured and needing to use the facilities.
Your gum still hurts from the peanut incident from a week ago.
Find yourself in a Native American. gas station off the side of the road, patrolled by two beat up white vans pretty obviously looking for no good.
Try to use the facilities.
Find that they're locked, probably for good reason.
Fill up the tank.
Hop back in the car.
Get the Hell out of town.
3:55 am chain removal area, Montana
Drive through a bank of fog, enter a graveyard for semi-trucks, silent and cooling for the evening as their masters rest.
Still no phone signal.
4:35 am 50 miles outside Alzada, Mo 5/25
You enter a tiny strip of a town and see a neon sign hanging in a window wishing you good luck.
You laugh, smoke and mirrors, portents etched in noble gasses, the opening act to a horror movie that hasn't quite found it's footing.
The sign was right.
You forget to take a right, the right you need to remain on 212 East to wherever.
Instead you end up on some horrible patch of nothing, rain beating down as you drive 10 mph through three inches of mud and darkness on a road that seems to have consumed all the light around it.
You have 3G.
5:51 am entering wyoming 212 E 5/25
You pass a dead deer, limp and moist and pathetic, sprawled on the side of the road.
Welcome to Wyoming.
You have no service.
5:34 PM leaving South Dakota 5/25
South Dakota just won't quit us. Spent some time in the Badlands, watching tall grasses and prairie dogs, and much more time on the road, watching the highway roll on by.
7:08 PM Somewhere in Iowa 5/25
Before leaving Dakota we saw a corn palace, which turned out to be a multi-use convention center covered in corn husks and ephemera.
The road is endless, and endlessly bizarre.
9:46 PM Gainesville 5/26
Driving through a tropical storm, we made it home with 5500 miles on the car.