Travel Stories: Peru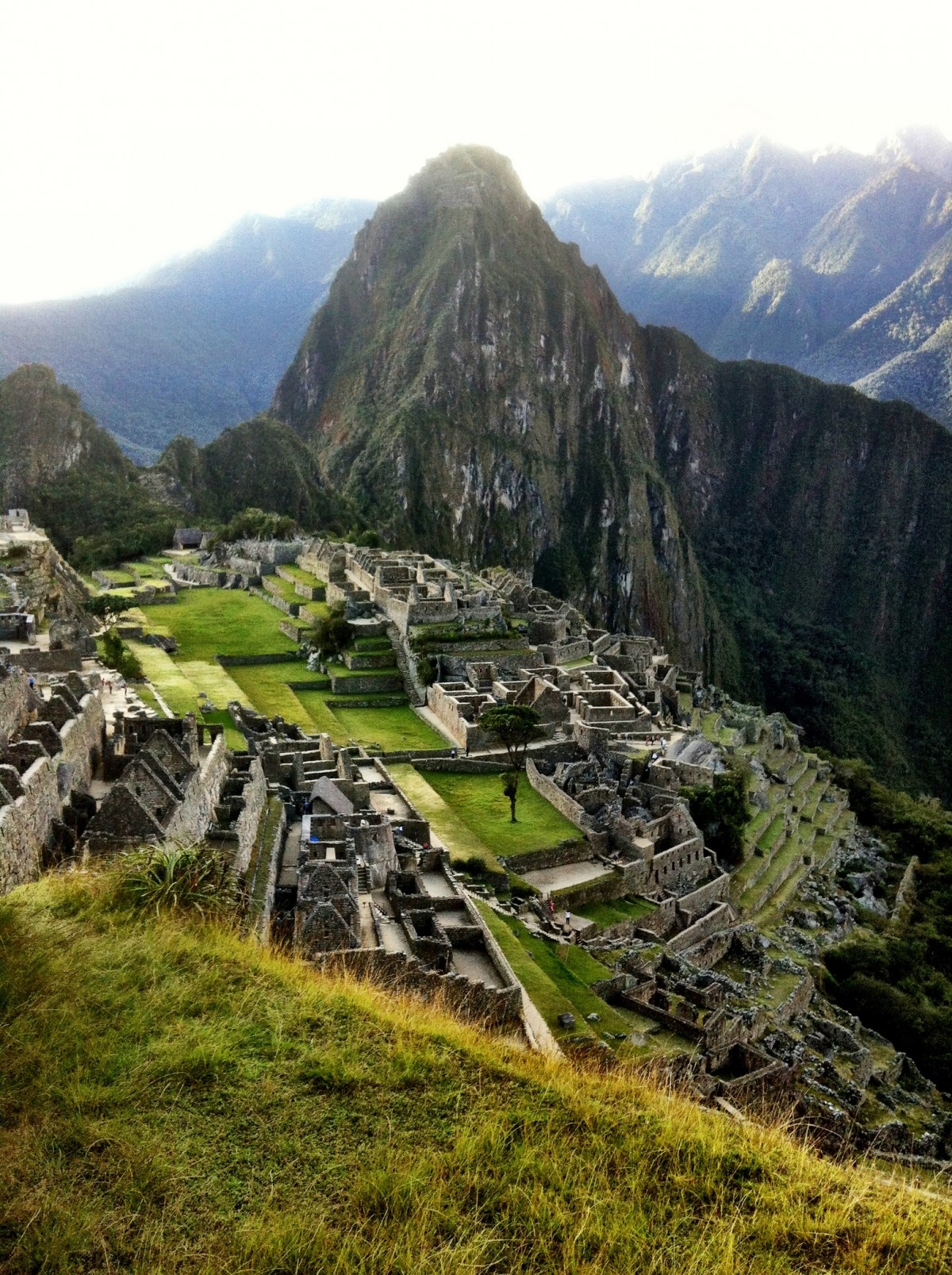 (I traveled to Cusco, Peru in the Summer of 2013, this is what I saw.)
8:38 am Gainesville 8/10
"Going to Peru to hike the Inca Trail," which sounds like the punch line to a joke I don't know the setup to yet. I guess I have until next Thursday to figure it out. For now, I'm zipping towards the airport with my life for a week packed into a single, green backpack — having forgotten my sunglasses, along with quite a few other things I haven't gotten around to remembering.
Thought: I spend a lot of time daydreaming about the audiobooks I'll force my future children to listen to with me in the car so that years later they'll think I'm cool. There is a contradiction of terms in there somewhere.
11:47am MCO 8/10
When I fly in the morning, even out of a major airport like MCO, there is this overwhelming sense that I have joined the ranks of a particularly rare and desultory breed of zombie that has, through inaction, run out of grey matter to occupy its attention and has instead fallen into a deep fugue state to conserve what's left of its unlife.
When, like today, I fly in the early afternoon I feel like cattle. Moo.
A man at gate one is unselfconsciously practicing a Capoeira hand stand. At gate three a little girl begins using the arm rests as balance beams before being led away by her mother. Nearby, I listen to Ke$ha and daydream of Bogota.
12:33 PM MCO 8/10
When going to Colombia it is good to remember that gate security is very, very interested in knowing who you are, why you're going and how long you'll be staying, lest they discover that you are exactly the sort of person who should not be going anywhere near Colombia, and who they'd very much prefer stayed in a dark corner of a security substation under their watchful eye.
2:41 PM 35,000 FT 10/8
Two things I find to be especially interesting at 35,000 feet up: One, the amount of concentration flight attendants must muster to maintain a smile that both never touches their eyes, but also never leaves their faces. Two, the odd and modestly disconcerting recognition that it takes approximately the same amount of time to fly to San Diego, California as it does to Bogota, Colombia.
Here's a bonus for playing — don't paint your nails inside a tiny, precariously hovering metal box while piled on top of 80-100 other people, some might consider it mildly inconsiderate.
3:44 PM (Subjective) Bogota 10/8
Welcome to Bogota, where I will be spending the rest of the evening. Scratch that. Lima, I'll be spending my evening in Lima.
Speaking of Bogota, the Bogota international terminal is quiet, the kind of deathly quiet that makes you want to wear headphones just to break up the silence. The quiet only serves to punctuate the sterile beauty of the terminal, it's the intense clean of a movie set — all done up in a stark, futuristic gray and black that belies the gaudy richness of the gift shops that line the corridors, I almost want to buy something just so I could better describe it by counterpoint.
Also, free WiFi.
4:48 PM (Subjective) Bogota 8/10
I'm drinking a cafe mocha at a place called the Juan Valdez Cafe, which in the middle of the International Terminal is about as close to authentic Colombian coffee that I'm going to get tonight. It's good and at least all the signs are in Spanish. I really should have brushed up on my Spanish. Hindsight…
It's already getting dark, geography is a funny thing.
I'm watching Captain America in Spanish at an American Bistro called "Orleans" right across from the Madrid Gate. I ordered a Po'Boy. It was OK. This might be one of my saddest moments. Based on current evidence, I can now only assume that Colombia is best known for its cafe mochas and Cajun themed sandwiches.
10:56 PM (Subjective) Lima 10/8
I don't remember the last three hours, it's a haze of pressure changes, ham and cheese sandwiches and a rather dramatic immigration. I forgot to pick up a customs form. This might become a problem. At least a problem in the relative sense, I'm in Lima until 5AM, it's not like I'm going anywhere.
11:43 PM (subjective) Lima 10/8
As it turns out the form I saw everyone carrying wasn't a customs for but a migration one, and through a bit of wishful standing I've managed to acquire my own. Too bad it didn't come with a pen. I almost checked my backpack for one even though I distinctly remember not packing anything resembling a writing utensil. Somehow it seems reasonable to me that I might find one if I rifle through it enough. Immaculate Penception and all that.
The immigration line is one of the great tests of a tourist populations patience, thus far the Peruvians are troopers.
I want to start a publishing company called Immaculate Penception. We'd only publish religious tracts created through automatic writing.
12:27 AM (Subjective) Lima 8/11
Lima's airport has a magical button that tells you whether your bag has to go through customs. I found the fact that I got the green light and others did not profoundly satisfying.
12:53 AM (Subjective) Lima Airport 8/11
A security agent asked a Ukrainian woman to tell me that apparently I can't go through security until 2Am. Neither of us was exactly sure why, and the security guard wasn't telling. That's OK, that just means I get to eat at Prados Chicken, which may or may not bare some resemblance to what Peruvian cooking is like. It couldn't be much worse than the McDonalds next door.
Also their sign says "Export Concept" in bold letters to the right. I haven't determined whether this is a statement of fact, a poor translation or a challenge to potential investors. Language is funny like that.
2:37 AM (Subjective) Lima Airport 8/11
So I'm going to admit something. I don't feel all that great. For the last few days I've been having this weird breathing thing, I'm guessing its the last dregs of a cold I picked up in San Diego and didn't bother to take care of. Combine that with the extreme lack of sleep and general confusion of travel and I could use some rest in a big way. Just one more leg to go. Tora, tora, tora.
3:13 AM (Subjective) Lima
A man waits in line with some British tourists at 3AM for a cancelled plane to Cusco, he's sick, tired and massively confused. What does he do? Bonus points for solutions that involve neither violence not tears.
Travel teaches you that life is farce or at the very least a spectacularly persistent parade of dramatic irony.
Now for the million dollar followup: a man's shuttle is set to bring him from Cusco Airport to his hotel so that he can take a well deserved coma, to motivate this outcome he sent the hotel shuttle service his flight information, that flight information is now null and the shuttle driver has no way of knowing. What should he do? Note the man his no WiFi or cell phone service.
Solution to both – put the man on a flight that leaves out five minutes later than his original. Have him wait in line for an hour to find this out. I think I was right about the farce bit.
8:46 AM (Subjective) Cusco 8/11
I'm living in an attic down an alley near the center of Cusco, a city the color of burnt orange rinds situated at the lowest point of a wide expanse of hills that stretch out in all directions. It's a clay and stucco place, all browns and beige's punctuated by flares of near fluorescent yellows and blues. It's also a place located over 11,000 feet in the air. Altitude sickness. It hasn't quite hit yet but I'm pretty certain it's coming and when it does all that stands between me and a really bad time is a giant bottle of water and my steely, steely will. I'm in trouble.
1:25 PM (subjective) Los Portalles
We ate at a restaurant with really good chicken. 5 people tried to sell us the same 10 totally unique paintings. Fascinatingly, although the art was the same, the signatures in the lower left hand corner were always different. There is a certain beauty in that. In either case, Bruce bit and the scammer almost bit back, offering us the paintings along with an opportunity to meet a friend of his right outside of town. He'd even bring his car! I mentioned the distinct possibility that we would be mugged and murdered — we decided not to go. Interestingly enough another entrepreneur offered to sell us the exact same works of art for 1/100th the price.
Oxygen deprivation makes strange bedfellows.
9:35 PM (Subjective) Los Aticos 8/11
Cusco is a constant battle with altitude sickness. It determines where you go, what you eat and how often you run to the little boys room. Makes sense when you think about it, It's not often that the air slowly attempts to drown you.
Fun fact – Pollo Brasse is the Peruvian KFC, where it's important to note that if you order a Combo Two you will receive the Combo One, twice. The profundity of this has not been lost on me.
From my attic hideout I hear the sounds of a nearby birthday.
5:20 AM (Subjective) Los Aticos
5 AM is still 5AM no matter where on the planet Earth you happen to be. Here the usual discomfort is joined by dizziness and headaches and cramping as my body tries to pull a little more oxygen out of the gossamer thin air. My dream of living in the Andes is permanently on hold.
5:39 AM (Subjective) On the Road 8/12
One hour to the train that will lead us to Micchu Pichhu. Packs of dogs everywhere punctuated by morning joggers. As we make out way out of the city, homes turn to shanty town, trash and graffiti replace kept boulevards and clean walls, there is a sense that the mild poverty of the central city is a mask hiding something much darker.
On this road there are no personal cars. None, at all. Tour vans and official looking pickup trucks are all you see. That and police vehicles, filled with hard men in fluorescent vests idly waving cars by as they wait for whatever action a road like this sees.
6:06 am (Subjective) Outside Cusco, 8/12
A woman in traditional Incan garb struts down a hill, braced by the sun which casts fire over a ridge of snow capped mountains. The road is empty and endless, and on my right a vast valley stretches out, a valley that from this distance, a distance that denies the existence of the shanties, the packs of wild dogs, the poverty and the daily deprivations that this tour van is blissfully immune to, the world is as stunningly beautiful as it has ever been.
6:32 am (Subjective) Outside Cusco, 8/12
How long does it take you to forget that you live in one of the most beautiful places on Earth? My wide mouthed gawking acts as a counterpoint to our guide's idle, disaffected conversation in Catchewa.
Maybe they understand something that I don't, that Peru is always a question of distance, a diamond which can only be appreciated through a jewelers glass, up close, close enough to understand the specs of blood that went into making it.
More dogs, nicer homes, a rusted iron horse and a curious brand of covered motorcycle.
9:10 am (subjective) Inca Trail 8/12
Just stepped on the trail. Altitude sickness gone. Bathroom concussion new problem. Peru is built for short people.
11:47 am (subjective) Inca Trail
I hate stairs, especially century old stairs. Bruce almost fell off a mountain, which is a lot funnier than you might believe. Apus means "holy". Peru is the only place I can think of that builds hydroelectric plants next to sacred sites. The mountains are vast. The trail is long. I am tired.
As I approach a sacred inca site, momentarily alone, I realize that there is nothing in the world like exhaustion to refine your sense of awe.
12:24 PM (subjective) Inca Trail
A waterfall is natures way of telling you to stop and gawk. I've decided that I'm not so much tired as utterly unmoored. The trail seems to me as one, continuous expression of an idea, that the journey embodies the meaning. To go Machu Picchu without the journey is to know the notes without ever hearing the music. As our guide is paraphrased by me, the value of the site itself is embodied by the pain and sweat required to get there. A similar thing can be said about the beauty.
Butterflies and breeze, snow covered mountains higher than the clouds.
3:19 PM (Subjective) Inca Trail
Water.
4:16 PM (subjective) Inca Trail
Majesty.
8:07 PM (subjective) Aqua Caliente 8/12
I'm having a hard time putting into words the fact that hiking 12 miles over hills and dales, mountains and valleys, rocks and a lot more rocks is difficult and rewarding and amazing, so instead I will tell you that at dinner afterwards we learned that a pair of 60 year olds and a 14 year old child had been doing a similar hike for four days at altitudes 50% higher than ours and were ready and rearing to keep going. We're lame.
10:25 am (subjective) Machu Picchu 8/13
I'm a functionalist. I walk around Machu Picchu and ask myself how the pieces of the puzzle fit together. How do you create perfectly hewn stones without complex tools? How do you create a near perfect compass without complex mathematics? How do you tame the Sun, and use it to predict the planting season with nothing but pure reason and experimentation as your guide? It's not a mystery, each of these questions has it's answer but just because it is not a mystery doesn't mean the questions are not worth asking. Doesn't mean that the answers are not another note, another movement in the opera of birth and death, destruction and creation that is the human experience.
I'm a sensualist. As I walked the trail the question I asked myself over and over again is what would this mean to someone making the pilgrimage? If the Inca trail is a path of purification which areas would be most cleansing? Which parts of the trail were pure function and which were plaintive offerings to the Earth that gave them life. To appreciate the destination you have to understand the path. Form is nothing without context.
7:09 PM (Subjective) Cusco 8/13
Back in Cusco. The streets are alive, the hotel is alive, the air is rich with music and laughter — outside my window the hillside is ablaze with lights.
Also, on a more pedestrian note my altitude sickness has decided to take a sabbatical.
I could have sworn when we left there were three beds in here…and a space heater.
1:01 PM (Subjective) Mercado San Pedro's 8/13
When compared to the Plaza de Armes with its rich variety of swindlers and craft peddlers, the Mercado San Pedro's is a dream. All stalls and meats and crushes of human life. It's a place frequented by foreigners for the obvious bits of cultural detritus that ennobles all travel stories, and by Peruvians to pick up the meats, corn, potatoes and other staples that run the engines of their lives. The food court there, and honestly what else could you call it, is sort of brilliant in its lack of pretension — where the air is peppered with spices, meat is cooked in huge vats, menus are in Spanish and you sit pressed up against a half dozen other diners in a makeshift cafeteria.
When shopping in Cusco it is best to make certain that your beautiful, traditional Peruvian leatherwork was not actually crafted in a wallet mill in China.
11:37 PM (Subjective) Lima 8/13
Gate assignments in Lima are really just suggestions, not even particularly strong suggestions at that. The same goes for boarding times, and flights…
12:35 am (Subjective) Lima 8/14
Apparently there is a strike. At least that's what the comforting , heavily accented Peruvian pilot said. The wider implication being that on occasion aircraft ground crew somewhere between here and Bogota just stop working, and the result is 100 people sitting in a chilly box with a pair of complimentary headphones and no scheduled take off time.
5:50 am (Subjective) Bogota 8/14
Sunrise over Bogota, the final leg of the race.